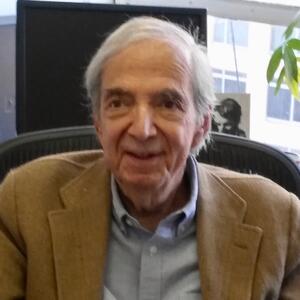 Fred Papert
Advertising Executive, Preservationist, Founder of the 42nd Street Development Corporation
Born on Friday, October 29, 1926
Died on Friday, May 20, 2016

Interviewed on: Wednesday, October 21, 2015
Location: At Mr. Papert's office
Interviewed by: Casey Childs
Interview #52

"I was walking down the street, this garbage street…[Robert Moss] runs out of the office of [this building]...and says... 'What are guys like you wearing a shirt and tie doing on a street like this?' and I said 'Well, we're a group of people, we'd like to change all this."


Video Length: 5 Minutes, 8 Seconds

Fred Papert Highlights

Video Length: 1 Hour 17 Minutes

Fred Papert Interview
Born in New York City, Fred Papert first made a name for himself in the advertising industry, eventually co-founding his own firm: Papert, Koenig and Lois. He was a vital part of the ad industry during its golden age and is rumored to be the inspiration for the John Hamm role in AMC's hit TV show, "Mad Men."
Papert worked with Robert Kennedy during his 1964 senate race.  PKL closed in 1969. In 1970 Carnegie Hill Neighbors was founded, with Papert as its first president, leading to its designation as a historical district. Papert was President of the board of the Municipal Arts Society from 1975-1976 when he, Edward Koch, Jacqueline Kennedy Onassis and others created a Committee to Save Grand Central Station.
In 1976, Fred Papert founded the 42nd Street Development Corporation, a nonprofit corporation dedicated to preserving one of Manhattan's most renowned streets. Inspired by Robert Moss, the Corporation built Theatre Row, a complex of Off- and Off-Off Broadway theaters and restaurants between 9th and 10th Avenues. They also planned the reclamation of the historic 7th to 8th Avenue blocks, worked with the late Jacqueline Kennedy Onassis on the successful renovation of Grand Central Station, built new headquarters and stables for the Mounted Unit of the New York Police Department between 11th and 12th Avenues, and partnered in the development of Manhattan Plaza, an artists' housing complex between 10th and 11th Avenues on 42nd Street. Papert's corporation also created the 42nd Street Fund, which provides grants and soft loans to not-for-profit organizations wishing to get into the real estate business. The success of Theatre Row has strengthened the 42nd Street Fund and allows for the continued support of important projects to improve New York City.
Mentioned in Interview
Joseph Papp, Jackie Kennedy, Hugh Hardy, Bob Moss, Rebecca Robertson, Playwrights Horizons, Theatre Row, Signature Theater, Ziegfeld Follies, NYSF/The Public, Manhattan Plaza