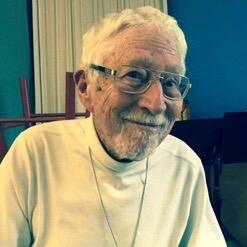 Tom Jones
Playwright, Lyricist
Born on Friday, February 17, 1928

Interviewed on: Thursday, May 5, 2016
Location: Primary Stages Offices
Interviewed by: Casey Childs
Interview #63

"Anybody who thinks that theatre is a profession is out of their mind. No profession has 80% unemployed and still calls itself a profession . . . it's a calling and I realized it's a noble calling, and fun too. -- I used to dream of a poor theatre . . . a theatre reduced of most of the things we think are necessary for the theatre . . . to, in some way, touch upon that ancient thing of gathering together for a story and I think there's a hunger for it."


Video Length: 5 minutes, 20 seconds

Tom Jones Highlights

Video Length: 1 hour, 41 minutes

Tom Jones Interview Part One

Video Length: 49 minutes, 36 seconds

Tom Jones Interview Part Two
Tom Jones' work as a playwright and lyricist is well known through his role in creating the Off-Broadway musical THE FANTASTICKS (1960), which became the longest running musical in theatre history. After two Broadway successes with 110 in the Shade (1963) and I Do! I Do! (1966), Jones and composer Harvey Schmidt used their profits to open Portfolio, a theatre workshop dedicated to creating small-scale musicals in new and often untried forms. The most notable of these efforts were CELEBRATION (1969), which moved to Broadway, and PHILEMON (1975), which won the Outer Critics Circle Award and was filmed for television. In addition to receiving an OBIE Award and the 1992 Special Tony for THE FANTASTICKS, Jones and Schmidt were inducted into the Broadway Hall of Fame in 1999 and, on May 3rd of that year, their stars were added to the Off-Broadway Walk of Fame. Other Jones/Schmidt shows include COLETTE COLLAGE (1970), GROVER'S CORNERS (1987), MIRETTE (2000), ROADSIDE (2001), and THE SHOW GOES ON (2012). Since Mr. Schmidt's retirement, Jones has been working on three new musicals: Harold and Maude with composer Joseph Thalken, La Tempesta with composer Andrew Gerle, and The Game of Love with composer Jacques Offenbach.  
Mentioned in Interview
Harvey Schmidt, Edmond Rostand, Janet Watson, Gower Champion, David Merrick, Mary Martin, Robert Preston, Portfolio Theater, The York Theatre, THE FANTASTICKS, 110 IN THE SHADE, I DO! I DO!, CELEBRATION, PHILEMON, THE SHOW GOES ON, GROVER'S CORNERS, ROADSIDE, HAROLD AND MAUDE, THE GAME OF LOVE